Polished Concrete for Restaurant Floors
Polished Concrete for Restaurant Floors-
When customers walk into a restaurant, they judge the whole environment. The floors, walls, decor and ambiance. This happens well before the food or even the service. From floor to ceiling you want to give them the best possible experience.

That is why polished concrete is a great choice for a restaurant floor. It can be customized to fit the theme. Colors, patterns, and logos can all be incorporated into polished concrete floors.
Polished concrete is easy to maintain due to its smooth non-porous surface. Deep cleaning can be done in-house in a couple hours. Other options, like carpet for example, trap dirt and grease. These surfaces require deep cleaning which can be expensive and inconvenient.
Polished concrete is seamless, which means there are no breaks or height differences. Tile floors have grout every 12" that just collect the dirt and grease and look dirty in a short amount of time.
Polished concrete floors have a sheen that brightens the restaurant and reflects neon lighting, which is commonly seen on restaurant dance floors. Because of the ambiance, something like this style of decor - neon lights and signs and a shining floor - can entice a large number of customers to try out your restaurant at least once.
A typical polished concrete treatment consist of multiple passes with a large grinder. Each pass has a higher grit diamond on the bottom. Each pass reveals more shine. A typical polished concrete goes to an 800 grit. Polished concrete is densified to make it hard and a sealer is applied and burnished in.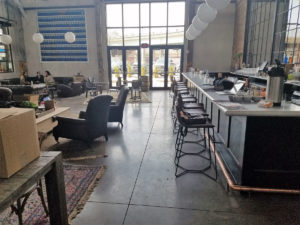 Upon completion, Polished concrete is permanent, has abrasion and impact resistance. When the floor is dirty a simple mopping will take care of it. Polished concrete will stay shiny for years and if it appears to be dull a deep cleaning and a new coat of sealer will bring out its original beauty. This cam be done overnight and in sections.
If polished concrete may make sense for your restaurant give us a contact us call today and see what all can be done.
PhiladelphiaConcreteFloor.com | Powered by Philadelphia Concrete Floors
Call us today at (215) 245-7360 or Contact Us by email
© 2004-2023 Concepts in Concrete Bristol PA | All Rights Reserved | Powered by Rettig Digital