Self Leveling Concrete Overlays
Some of the most beautiful and durable floors in the world today have been created using decorative self-leveling concrete and overlays. These coatings allow unlimited creativity, providing you with countless design options to complement any design and enhance your home or business. These techniques result in floors so beautiful that many people mistake them for tile or natural stone. Choose from a polished or lightly textured sandstone-like surface.
A concrete floor that is in good condition often doesn't require any overlays or self-leveling concrete. In these cases, our skilled concrete flooring experts can dye and polish your floor for a striking, unique finished appearance. If your floor has sustained damage or wear, however, or if you simply want more design options, self-leveling or overlay options are available.
What is Self Leveling Concrete?
Self-leveling concrete is a special type of concrete mixture that is specifically designed to smooth out concrete surfaces. It can be applied over damaged existing surfaces and will spread out to fill in low areas and create a flat, even surface.
Self-leveling concrete is ideal for use on uneven, spalled and pitted, or damaged concrete floors, providing a durable and smooth base for further flooring installations or to be left as a final finish. This type of concrete is less vicious compared to traditional concrete mixes which allows it to flow easily and fill in any cracks or gaps that you might have. Self-leveling concrete is a popular choice for any renovation project and also new construction as it provides a smooth and durable surface quickly.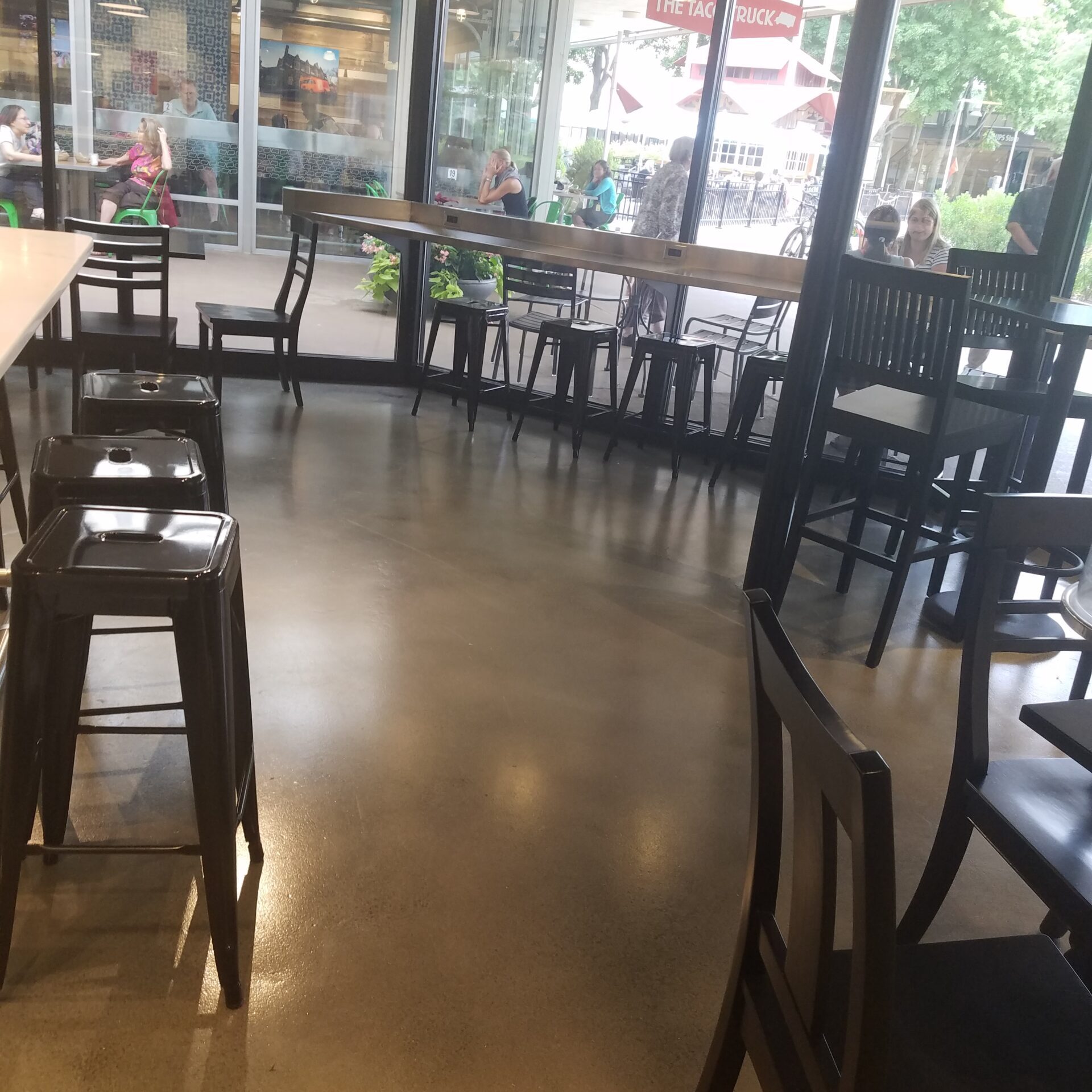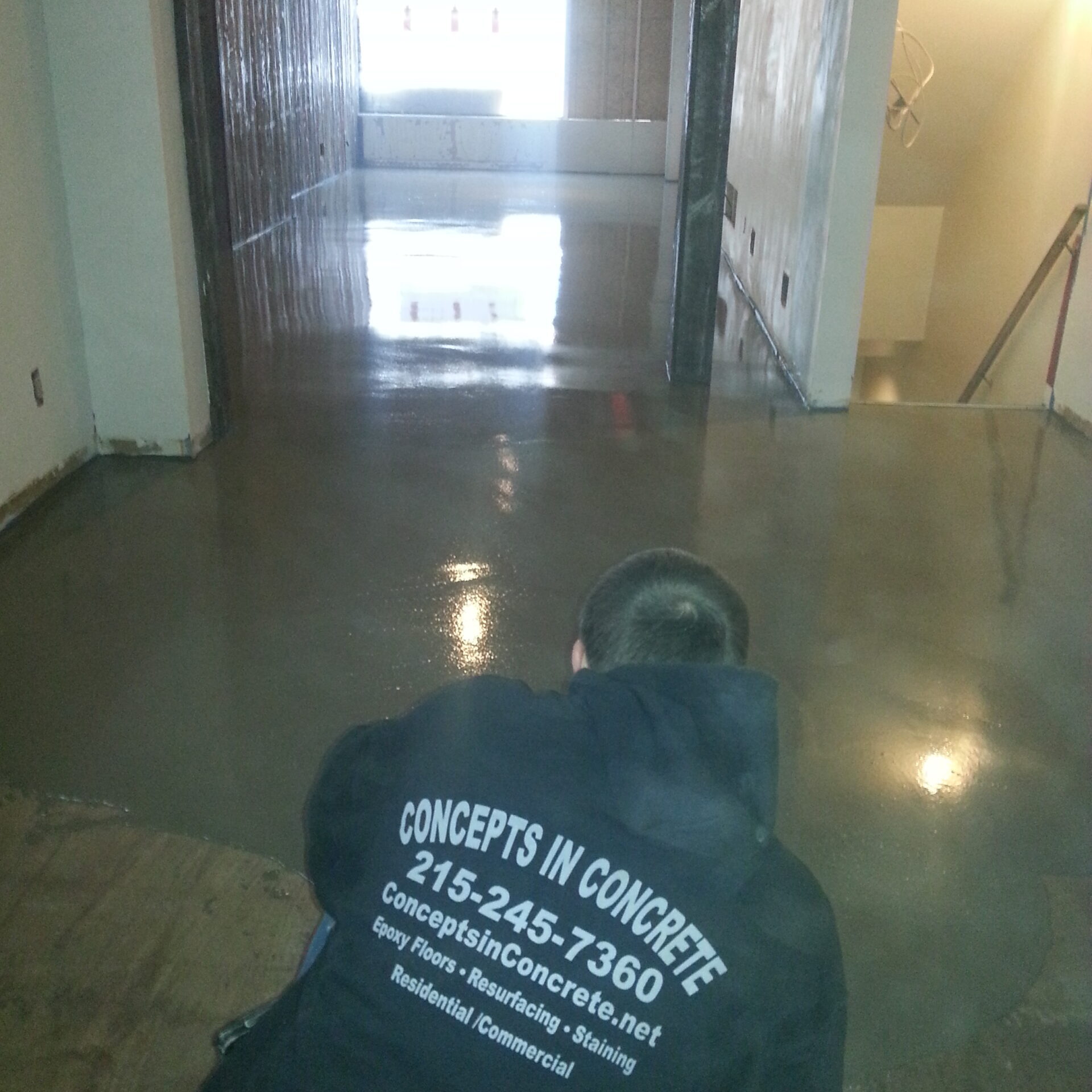 What are the Pros of Self Leveling Concrete?
Self leveling concrete has a fast installation and can be applied quickly and easily, providing a smooth surface in a fraction of the time required for traditional concrete pouring.
Also it provides a flat and even surface: Self-leveling concrete is specifically designed to smooth out concrete surfaces, making it ideal for use especially on uneven or damaged floors.
Self-leveling concrete dries quickly, allowing you to use your newly leveled floor sooner than you would with traditional concrete. Depending on the size the floor could be returned to servicein 6 hours or so.
The ease of application and quick drying time of self-leveling concrete means that the labor required for installation is minimal compared to traditional concrete pouring.
Does it Really Self Level?
The term self-leveling is misleading. We rarely ever level the floor. We do, however, get the floor flat so that other floor coverings such as VCT or LVT lay properly over the floor.
In certain circumstances we can level a floor to 1/8" over 10 feet. This is necessary with certain machinery or equipment.
Self Leveled & Stained Concrete
After we apply the self-leveler these surfaces can be stained and sealed. These floors are very customizable and unique. Stained concrete is a type of concrete flooring that has been treated
with a colored stain to enhance its appearance.
The benefits of this flooring option is its durability, versatility, and ease of maintenance. There are hundreds of different design options, such as patterns, colors, and can be used inhomes, commercial spaces, and outdoor areas.
Polishable toppings are concrete overlays poured at about 3/8" "that can be smoothed and polished to a high gloss finish. These toppings are applied on top of an existing concrete surface. This is done when the existing concrete is too damaged to polished.
Polishable toppings are known for their durability and versatility, and can be used to improve the appearance as the glossy or satin finish can be achieved. Polishable toppings can have stone in them to resemble true polished concrete. Polishable self-leveler is easy to clean and maintain.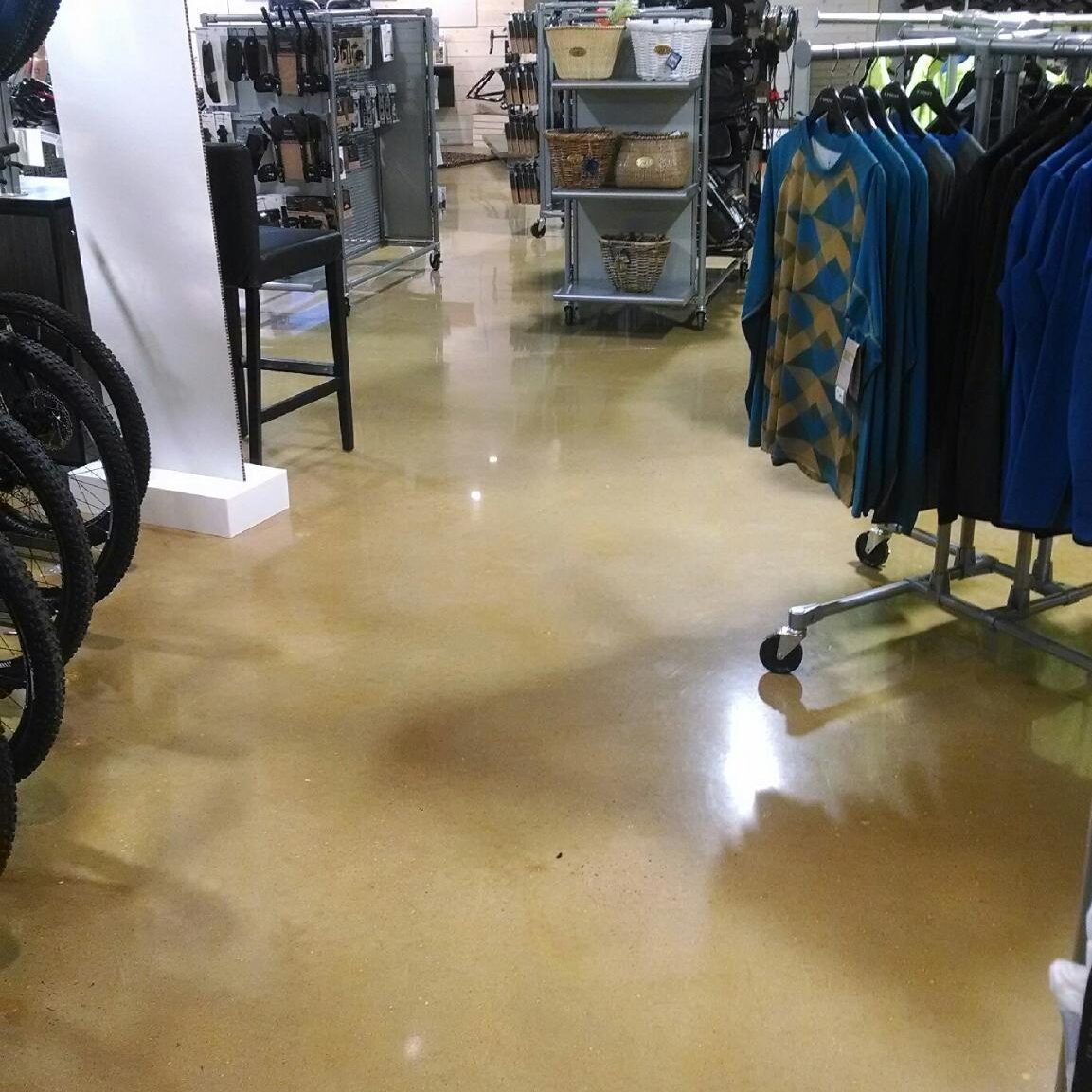 Self-Leveling Concrete - Local Areas We Serve
We apply self-leveling concrete in Philadelphia, Bristol, Chalfont, Doylestown, Dublin, Hulmeville, Ivyland, Langhorne, Morrisville, New Britain, New Hope, Newtown, Penndel, Perkasie, Quakertown, Richlandtown, Riegelsville, Sellersville, Silverdale, Yardley PA
Call us today at (215) 245-7360 or Contact Us by email
© 2004-2023 Concepts in Concrete Bristol PA | All Rights Reserved | Powered by Rettig Digital