When you need flooring that is durable, non-porous, non-slip, and seamless, epoxy floor coatings are an ideal choice. We employ cutting-edge technology to create a floor finish that fuses to the concrete beneath them, creating a strong, durable bond.
To begin with, our trained installers repair your existing concrete. If necessary, self-leveling concrete is used to create a level surface free from cracks and defects. Existing concrete is ground to open the pores and prepare the floor to bond tightly to the epoxy coating. Two to three coats are applied to the concrete, then decorative vinyl or natural quartz chips are applied. The final step is the application of a topcoat to create a thick, smooth, high-gloss floor that is amazingly slip-resistant.
You can choose from hundreds of color combinations in a multitude of designs, including designs that employ custom graphics embedded beneath the surface.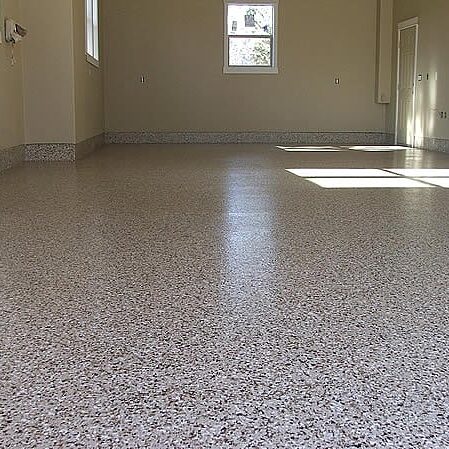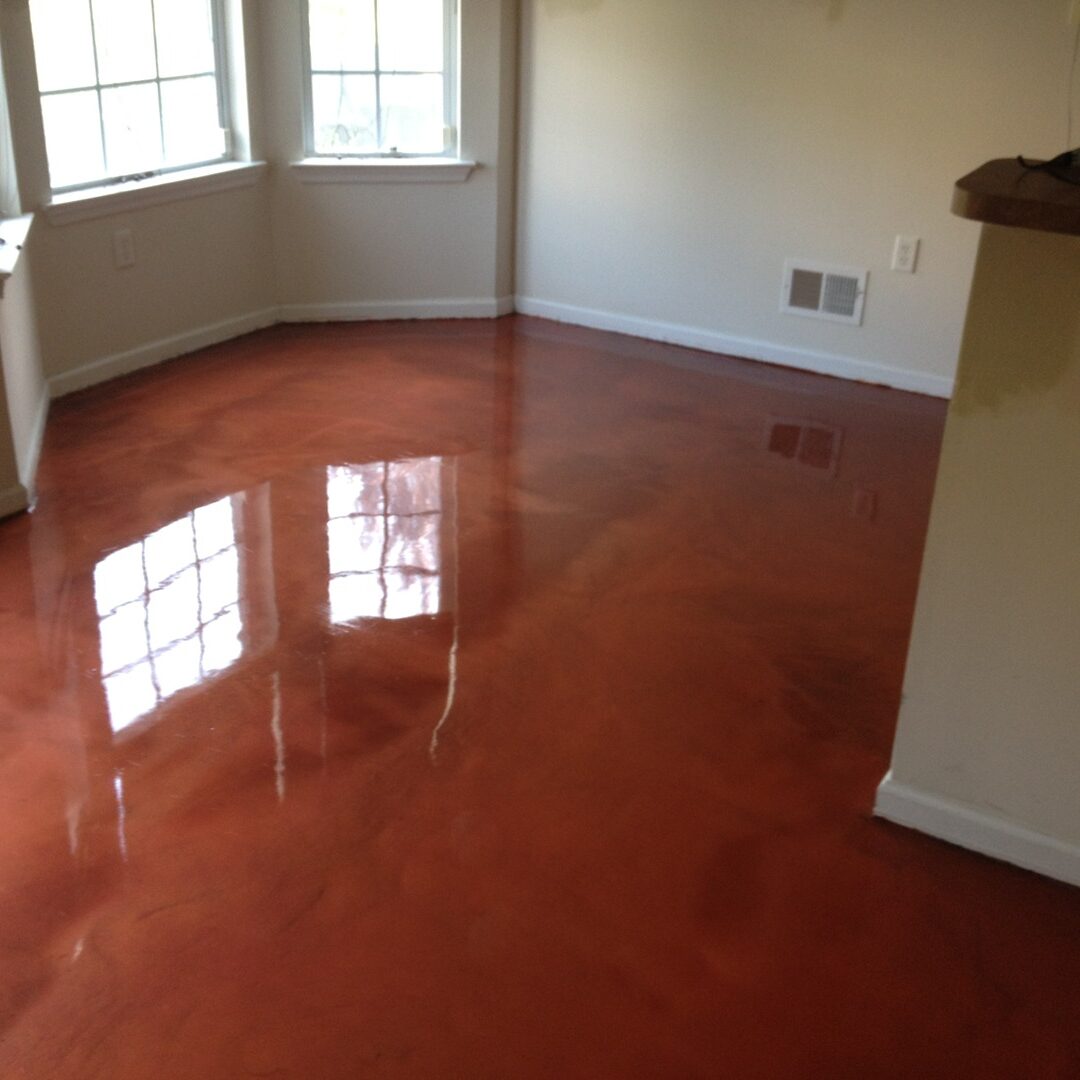 Benefits of Epoxy Floor Paint
Versatility
There are a variety of different epoxy floor coatings available to meet the special flooring needs of different industries and applications. Our experienced staff is skilled at helping you choose the best product for your specific needs.
Durability
Epoxy floor coatings are partially absorbed by the concrete, creating an exceptionally powerful bond. The extreme density of epoxies is highly resistant to nicks and scratches. Additionally, they are UV-resistant to prevent yellowing.
Inhibit Bacteria
The durable, non-porous nature of epoxies provides no place for bacteria to grow, making them a perfect choice for medical applications, food preparation applications, and kennels.
Waterproof
Epoxy floors are impervious to water.
Improved Air Quality
Your epoxy flooring will emit no volatile organic compounds (VOCs) into the air, leading to improved indoor air quality.
OSHA-Approved
Epoxies meet all OSHA requirements for non-slip floors, providing a safe, worry-free surface for your employees.
Speedy Cure
Coatings install quickly requires minimal curing time, getting you back up and running much faster than many other flooring options.
Epoxy Floor Coatings - Local Areas We Serve
We service the Philadelphia area including Philadelphia, Bristol, Chalfont, Doylestown, Dublin, Hulmeville, Ivyland, Langhorne, Morrisville, New Britain, New Hope, Newtown, Penndel, Perkasie, Quakertown, Richlandtown, Riegelsville, Sellersville, Silverdale, Yardley PA  Bucks County Pennsylvania and Mercer County New Jersey. Our experienced and knowledgeable staff will work with you to determine the best option for you.
Call us today at (215) 245-7360 or Contact Us by email
© 2004-2023 Concepts in Concrete Bristol PA | All Rights Reserved | Powered by Rettig Digital