Concrete Acid Stains and Decorative Dyes
There is no need for flat, lifeless, gray cement when concrete acid stains and dyes can add a magical touch to the aesthetic of any floor. Decorative concrete dyes offer nearly limitless color possibilities and variations, ensuring you get the look you want for your floor.
Stamped Concrete Using Acid Stains and Dyes
Concrete acid stains and dyes allow us to create unlimited options for our clients depending on their decorative needs. Exterior Stamped concrete surfaces can be stained with natural earth tones that hold up to UV rays. Interior stamped overlays and skim coats can be colored in a wide variety of colors using dyes. Water-based dyes are generally soft colors while vibrant colors can be achieved using solvent-based dyes.
Self-Leveling Concrete Acid Stain Color Options
Self-leveling concrete is applied at thicknesses of ¼ to ½ inches thick. We have systems that come in gray or white that can be integrally colored in unlimited colors and topically colored using concrete dyes. We have numerous options for sealing the finished floor that will enhance the color.
Self-leveling concrete has typically been used as an underlayment for hardwood, tile, or carpet. In recent years, new technologies have enhanced the performance options making self-leveling a highly decorative wear surface. These floors solve a tremendous amount of expensive construction issues. We can resurface floors that look irreparable or raise the height to match door jams, floor vents, or to match hardwood, tile, or carpet in adjacent areas.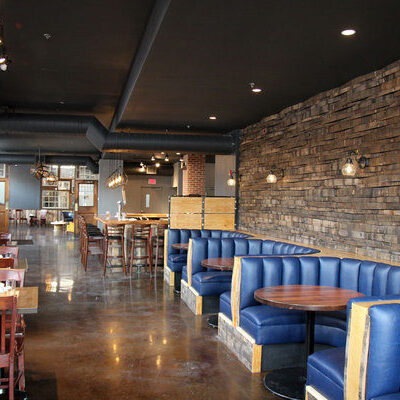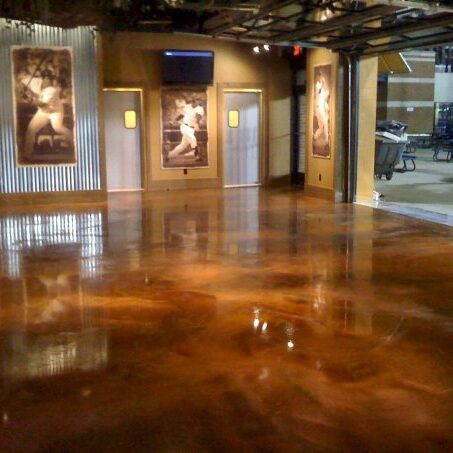 Colors and Staining for Micro-Topping and Skim Coat Overlays
Concrete micro toppings and skim coats are a great way to create a decorative concrete floor. These are thin coatings ranging from 1/16 of an inch to 1/8 of an inch thick. Two to three layers are typically applied with integral colors and topical concrete acid stains or dyes.
The decorative possibilities are unlimited as you can see in the images featured here. We can create borders, tile patterns, or whatever you can imagine. We can also create classic, seamless decorative surfaces.
Philadelphia, Bristol, Chalfont, Doylestown, Dublin, Hulmeville, Ivyland, Langhorne, Morrisville, New Britain, New Hope, Newtown, Penndel, Perkasie, Quakertown, Richlandtown, Riegelsville, Sellersville, Silverdale, Yardley PA
Call us today at (215) 245-7360 or Contact Us by email
© 2004-2023 Concepts in Concrete Bristol PA | All Rights Reserved | Powered by Rettig Digital