Concrete overlay on patio deck area at a Restaurant in Villanova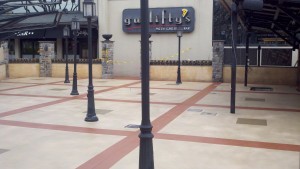 The owner of Guilifty's restaurant on Lancaster Avenue in Villanova had a concrete problem. The problem was that the concrete in the outside restaurant dining area was ugly, worn and very unappealing. Removing the concrete and replacing it with either new stamped concrete or colored concrete was out of the question because of the cost. In addition, because of it being a restaurant there is a retaing wall surrounding the patio as well as grease traps, plumbing and electric underneath the concrete.
So, instead of ripping out the concrete Concepts in Concrete  proposed doing a concrete overlay on top of the existing concrete.
After all the concrete was structurally sound just aged, worn and ugly. A concrete overlay is taking multiple coats of a polymor modified concrete and pouring it on top of the existing concrete. A concrete overlay allows you to add textures, colors and patterns. A concrete overlay also allows you to add custom designs, logos and whatever else you can imagine. Concrete overlays are very durable, able to endure freeze/thaw cycles, and stain resistant making them a good choice for interior or exterior restaurant flooring.
Gene and John sat down and discussed Gene's vision of how the patio should look. They  discussed layout, colors and timing. Concrete overlays can be installed in just a few days and there is no heavy equipment of big messes involved. So John and his team got started on the concrete overlay. Within a few days the project was complete and the restaurant's dining area never looked so good.
Concrete overlays are the perfect solution to restoring and enhancing worn ugly concrete. Concrete overlays are typically less expensive than ripping out and re-pouring new concrete, pavers or other natural materials.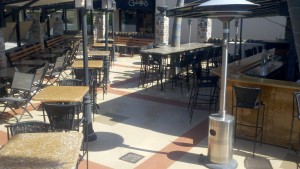 Call us today at (215) 245-7360 or Contact Us by email
© 2004-2023 Concepts in Concrete Bristol PA | All Rights Reserved | Powered by Rettig Digital