High Performance Novolac Epoxy Floor System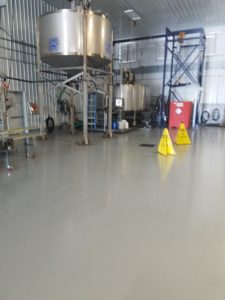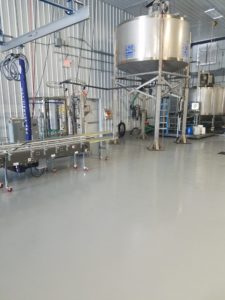 Our client came to us with specific needs. They manufacture products for the fertilizer industry and the raw materials used are very caustic to standard floor systems. In the past they would only get a short life span out of a floor before they would see problems. After submitting the chemicals to a few different manufacturers, General Polymers had a solution with their high-solids novolac epoxy floor system.
We went in to the facility and prepared the floor for an epoxy coating by grinding the floor with a 30" 950 lb concrete grinder. We then filled all the joints with an mortar system so the floor would be seamless and clean for a manufacturing facility. We then installed a four  coat Novolac Epoxy floor system. This floor is able to withstand corrosive and acidic chemicals and liquids. Novolac epoxy has excellent tolerance of a wide variety of concentrated mineral acids such as sulfuric and hydrochloric, and organic acids such as acetic acid and fatty acids. Solvent and caustic resistant.
These are great floors when you need additional chemical resistance that a standard urethane cant give. We install all types of epoxy floors for multiple industries including pharmaceutical, food, automotive and manufacturing
Call us today at (215) 245-7360 or Contact Us by email
© 2004-2023 Concepts in Concrete Bristol PA | All Rights Reserved | Powered by Rettig Digital