Epoxy Floors and Decorative Concrete For Pennsylvania Garages and Basements
Epoxy Floors and Decorative Concrete For Garages and Basements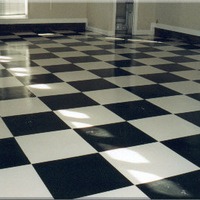 Did you know that old existing concrete floor can be upgraded to look brand new? Many types of epoxy floors and decorative concrete for garage and basement floors now are in style. There are a variety of companies who are now in the business of address residential areas -- with some of them specializing in basement and garage floors -- two places with heavy traffic in the home.
The surface can be greatly enhanced, adding both beauty and value to any home. These options include a change in color, texture, resurfacing or perhaps an overlay, intended to breathe new life into this area. For areas that see a lot of traffic; such as the garage floor, there are new epoxy floors coating that provide a great deal of options when it comes to resurfacing this space. Not only do the epoxy floors protect the base concrete itself, but has a number of colors to choose from that all provide an additional barrier to the most common agents of wear: dirt, chemicals and the family vehicles.
Most epoxy floors come with several options for the homeowner to choose from and the color can be tested in a small area before proceeding with the entire concrete pad. Epoxy floors are an extremely inexpensive way to give a plain slab an entirely new facelift instead of breaking up the entire floor and pouring a brand new surface.
Epoxy floors and decorative concrete for garage and basement floors is an easy choice. Most of the time, a simple surface prep is enough to prepare the cement for its new finish. However, sometimes the pad isn't entirely level and has to be either built up or ground down in certain locations in order to apply epoxy floors.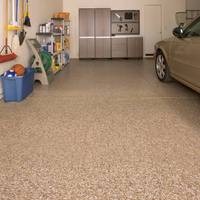 While a color change might be the only thing desired, other options that can also be done at the same time include stampings, overlays or sealer coatings. All of them can be customized according to the home's decor or to the whims of the client. Another popular option is an overlay and this actually adds about one-quarter inch of thickness to most floors. It can also be used in conjunction with other options including acid stains, stencils and texturing to create a very unique appearance.
If the concrete is in good shape, a  viable method in addition to epoxy floors is to make use of acid stain to provide a different shade of coloration. There are a multitude of colors in this alternative as well, with such exotic sounding names as gold rush and palm green for home owner to select their favorite. The possibilities are almost boundless for this once unattractive and forgotten floor type. It doesn't have to be drab and gray anymore with a new finish applied along with the proper coloration.
This not only creates a new look for your home, but creates value as well.
 Epoxy Floors and Decorative Concrete in Pennsylvania
Concepts In Concrete specializes in Epoxy Floors for residential and commercial properties in Philadelphia PA local area.
Call us today at (215) 245-7360 or Contact Us by email
© 2004-2023 Concepts in Concrete Bristol PA | All Rights Reserved | Powered by Rettig Digital