Basement Floor Repair
We specialize in concrete floor restoration using decorative concrete products. Basement floor repair in Pennsylvania can be achieved with concrete stains, dyes, coatings and sealers.
Carpet, tile and hardwood is problematic in The Philadelphia Suburbs basements due to excessive moisture vapor. Combine that with flooding from storms and most recently flooding caused by Hurricane sandy and you may be faced with a flooring problem that needs a real solution.
Decorative concrete is the best basement floor repair solution available.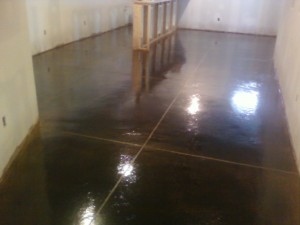 Basement Floor Repair Options
Concrete Stain – Decorative concrete stains are available in earth tone colors of browns, black beiges, and reds. If your concrete is in good condition, we can stain and seal the surface. If you ever get water from flooding it can easily be cleaned and resealed if needed. Many of our clients will add area rugs for warmth. Inexpensive area rugs can be discarded if damaged or rolled up and stored if a storm is coming. This is a very affordable, decorative solution.
Self-Leveling Concrete – If your

basement floor repair

requires a new surface, our self-leveling systems can be applied up to 3/8 inches thick. They can be integrally colored and stained and sealed.
Skim Coats – Like self-leveling but thinner. These overlays are ideal for basement floor repair when a thin coating is a solution
Epoxy Coatings – Epoxy systems have been around for years and are used mainly in industrial buildings. However, epoxies have evolved and provide some of the best solutions for resurfacing concrete. They are extremely durable with decorative options.
Once the flood damage to your basement is repaired, it's important that you look into basement waterproofing as a way to prevent this from happening again in the future. For this reason you might want to explore services similar to Water Mitigation Services, to see what options are available for both repairing your basement from water damage and possibly preventing any future water damage. You don't want to choose one of the four repair options to then have more flood damage you need to deal with the next time there's heavy rain in your area.
Basement Floor Repair – Local Areas We Serve
We provide basement floor repair using decorative concrete throughout New Jersey and Pennsylvania including Doylestown, Lansdale Newtown, and Yardley.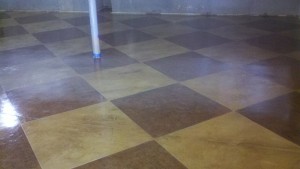 Call us today at (215) 245-7360 or Contact Us by email
© 2004-2023 Concepts in Concrete Bristol PA | All Rights Reserved | Powered by Rettig Digital