Metallic and Reflector Epoxy Treatments are all the rage!
If you are thinking of a new floor for your residence or your business then you have to spend some time learning about Designer epoxies which include Reflector metallic epoxies.
Reflector Enhancer Flooring Systems have been the hottest and most demanded commercial and residential flooring products since they were introduced. Metallic epoxy floors fit in any application.
 The reasons? First of all, the instant eye catching "Wow" factor. As you can see, Reflector systems look like no other flooring product. Second, Metallic epoxy floors are durable. Very durable. Tough enough to withstand vehicular traffic and yet beautiful enough for virtually any interior setting. Lastly, metallic epoxy is amazingly cost effective and more affordable than similar flooring products.
The look of stained concrete without the hassle and down time typically associated with other flooring products. From a distance, REFLECTOR Enhancer Epoxy Flooring Systems and metallic epoxy floors might look like any conventional stained or polished finish. However, as you approach the surface, you begin to see sparkles, additional shading and hues, depth of color that cannot be created with other flooring products. In fact Reflector Metallic epoxy floors can be designed to be 3-d.
All REFLECTOR Enhancer Epoxy Flooring Systems  are fluid applied onsite creating a tough, seamless finish without grout lines. In addition, the resin components in metallic Epoxy have a tremendous increase in tensile strength, compressive strength and abrasion resistance compared to that of tile, hardwoods and polished concrete.
IDEAL FOR: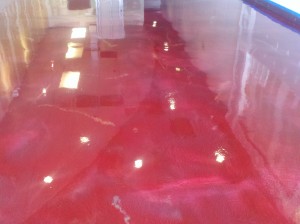 Retail Stores
Residential living spaces
Hotels and Casinos
Office Buildings
Garage Floors
Schools and Universities
Medical/Clean Rooms
Automobile Dealership Showrooms
Food Preparation Areas
Sports Arenas
Veterinarian Clinics
Shopping Malls
BENEFITS OF REFLECTOR ENHANCER EPOXY FLOORING & METALLIC EPOXY OR DESIGNER EPOXY SYSTEMS:
Reflector enhancer metallic Epoxy offers virtually unlimited designs, patterns and color options, limited only by your imagination
Concepts In Concrete offers complete project customization

Metallic Epoxy is an Affordable and cost effective flooring solution compared to other WOW factor flooring products

Reflector Enhancer Epoxy is extreme durability for high traffic areas

Did we mention Reflector or

metallic epoxy

systems are so strong that they can handle vehicular traffic
Metallic Epoxy offers very low maintenance compared to other flooring products
Metallic epoxy does not stain like tile grout or carpeting saving you money for years to come.
Metallic epoxy offers Quick installation time-days not weeks like other flooring products
Reflector enhancer metallic Epoxies offer VOC free options-because being "GREEN" is important to you and important to us
Metallic epoxy offers much more value over the life of the floor than traditional flooring products
Designer metallic Epoxy can be installed pre or post construction
 Reflector enhanced metallic Epoxy can be applied on new or existing floors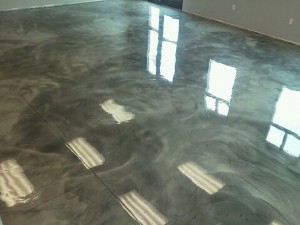 To learn more about Reflector enhancer metallic epoxy floors, and designer epoxies call Concepts In Concrete today at 215-245-7360. Concepts In Concrete does commercial projects on the entire east coat and residential projects withinn 100 miles of Philadelphia. Concepts In Concrete is located in Bristol PA, about 15 minutes from center city Philadelphia. Wether you are thinking of a flooring solution for your 35,000 sq ft facility or your 300 sq ft family room, we have the experience and expertise to get the job done.
Call us today at (215) 245-7360 or Contact Us by email
© 2004-2023 Concepts in Concrete Bristol PA | All Rights Reserved | Powered by Rettig Digital